"Surrey Golf Club has so many great offerings to satisfy your golf and dining desires.
By joining our Customer Appreciation Program (CAP) you and your family can play, dine and save!"
For every dollar you spend you will receive 1 point.
With your accumulated points you will be able to redeem them combined with a dollar amount toward Great Golf & Food Offers.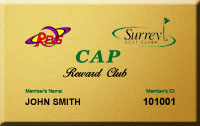 You can receive the following REWARD ITEM(s):
REVS Tap & Grill
Family Package Deal Silver 250P+$32
Large Meat Lover Pizza

Chicken Aglio E Olio Pasta

Kansas City Fried Half Chicken

Offer valid from 3PM every day
For more reward items in detail, please login with your email address and card #.