"Surrey Golf Club has so many great offerings to satisfy your golf and dining desires.
By joining our Customer Appreciation Program (CAP) you and your family can play, dine and save!"
For every dollar you spend you will receive 1 point.
With your accumulated points you will be able to redeem them combined with a dollar amount toward Great Golf & Food Offers.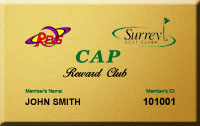 For more convenience and efficiency of your membership, we are replacing the membership card with a mobile app named as "Acorn Bin".

The Acorn Bin was specifically designed for you to collect "point acorns", which you will be able to apply at participating locations to save your money.
Be a busy squirrel, collect your point acorns today and store them in your Acorn Bin!
BECOME A NEW MEMBER? Manage Your Info? Please download the Acorn Bin app.
If you still prefer to use a card, please click HERE to become a new member.
For more reward items in detail, please login with your email address and member ID.